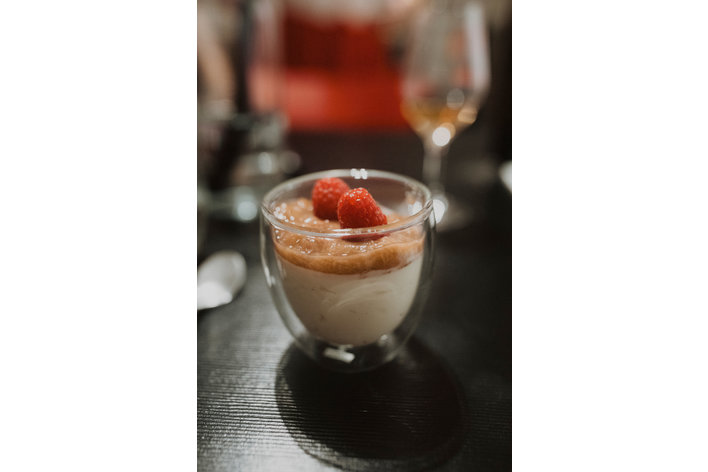 The idea of the dinner is not to propose you a predefined set that is known from the very beginning. We are not professionals, we just like cooking and sharing our experiences. Everybody says we should open a restaurant one day, where I cook and Seb makes the wine list and hosts the guests:) what if this experience will make me quit my job and do it?! who knows...

The idea behind is to eat with us what we eat, the way we eat it, and when we are cooking it as if you were our friends that come home for a dinner. We want to make out of it an occasion to have some interesting exchanges and why not new friends.

All the products at home are always fresh and mostly organic. All ingredients are from the local market, bakery, butcher's, fishermen's etc or brought back from our different travels.

So basically, this is a French dinner with some fusion from all the countries we have been to. It will include:

- some small appetisers,
- starter (cold or hot),
- main (hot),
- cheese (what dinner without cheese?),
- dessert (this one I make usually in advance),
- wine (the wine we drink is natural organic wine, please tell us if you dont like natural wines).

You just tell us if there is something that you dont eat or are allergic to and we adjust the best possible.

Useful information: the dining time is 8:30pm on a weekday and 8pm on Saturday/Sunday. We have a Parisian size apartment (we share it with our doggy): we can host up to 4 people at a time (with us it makes 6).

Questions?? Drop me a line.

PS: we live on the Cité Island, one street away from Notre Dame cathedral, you can see it from the window.

L'idée du dîner n'est pas de vous proposer un ensemble prédéfini et connu dès le début. Nous ne sommes pas des professionnels, nous aimons cuisiner et partager nos expériences. Tout le monde dit qu'on devrait ouvrir un jour un restaurant, où je cuisine et Seb fait la carte des vins et accueille les invités :) Et si cette expérience me fait quitter mon travail et le faire ?

L'idée est de manger avec nous ce que nous mangeons, la façon dont nous le mangeons, et quand nous le cuisinons comme si vous étiez nos amis qui veinnent à la maison pour dîner. Nous voulons en faire une occasion pour avoir des échanges intéressants et pourquoi pas des nouveaux amis.

Tous les produits à la maison sont toujours frais et surtout bio. Tous les ingrédients proviennent du marché local, d'une boulangerie, d'une boucherie, etc. ou sont ramenés de nos différents voyages.

En gros, c'est un dîner français avec une certaine fusion de tous les pays où nous sommes allés. Il comprendra :

- quelques petits amuse-gueules,
- entrée (froide ou chaude),
- plat principal (chaud),
- fromage (quel dîner sans fromage ?),
- dessert (je le prépare d'habitude en avance),
- vin (le vin que nous buvons est naturel, dites nous si vous n'aimez pas les vins naturels).

Dites-nous simplement s'il y a quelque chose que vous ne mangez pas ou si vous êtes allergique et je fais le nécessaire.

Renseignements utiles : l'heure du dîner est 20h30 en semaine et 20h le week-end. Nous avons un appartement de taille parisienne (nous le partageons avec notre chien) : nous pouvons accueillir jusqu'à 4 personnes à la fois (avec nous ça fait 6).

Des questions ?? Envoyez-moi un message.

PS : nous habitons sur l'île de la Cité, à une rue de la cathédrale Notre Dame, vous pouvez la voir par la fenêtre.
Any day · 8:30 pm on weekdays and 8pm on the week end / 20h30 en semaine et 20h le week-end
Fridays, Saturdays and Sundays are the best options for us as we both work. Please contact us to fix the date.

Les vendredis, samedis et dimanches sont les meilleurs choix pour nous, car nous travaillons tous les deux. Veuillez nous contacter pour fixer la date.
not predefined: hot or cold;

non prédéfini : chaud ou froid
---
~
not predefined: hot

non prédéfini : chaud
---
~
cheese and dessert

fromage et dessert
---
~
natural wine which goes well with the menu of the day

vin naturel qui se marie bien avec le menu du jour